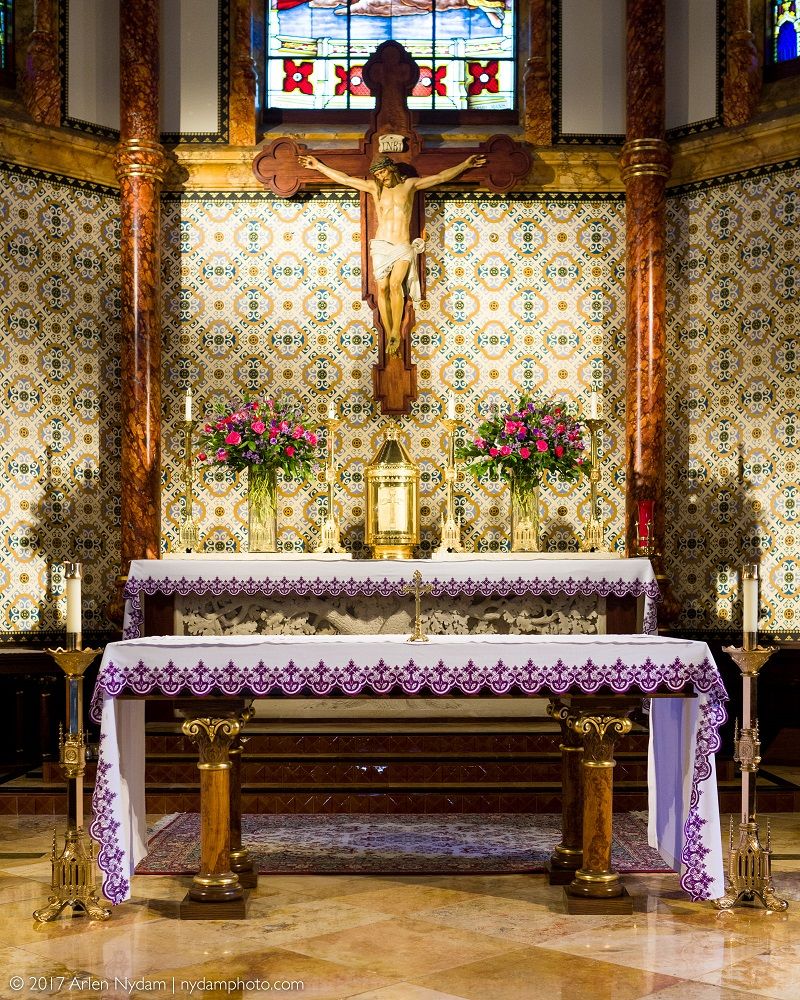 1. Mass (Holy Communion and Consecration)
A special Holy Mass will be offered at Parishes throughout the Austin Diocese. Mass locations and times are listed here. Please contact each Parish for Adoration and Confession schedules and seasonal alterations.
All Masses are offered on the Solemnity of the Annunciation of the Lord: Saturday, March 25, 2023.
A Communion Service is offered on Friday, March 24th.
If attending in-person, please observe customary COVID safety protocols, including not attending in-person if experiencing COVID or flu-like symptoms. Let us please help one another to keep our Clergy, Religious, and fellow parishioners healthy.
Please check again for added Mass locations and times.
Please scroll to the bottom of the page for the Act of Total Consecration to Jesus through Mary.
Se ofrecerá una Santa Misa especial en las parroquias de la Diócesis de Austin. Los lugares y horarios de las misas se enumeran aquí. Comuníquese con cada parroquia para conocer los horarios de Adoración y Confesión y los cambios de temporada.
Todas las misas se ofrecen en la solemnidad de la Anunciación del Señor: sábado 25 de marzo de 2023.
Se ofrece un servicio de comunión el viernes 24 de marzo.
Si asiste en persona, observe los protocolos de seguridad habituales de COVID, incluido no asistir en persona si experimenta COVID o síntomas similares a los de la gripe. Ayudémonos unos a otros para mantener sanos a nuestros clérigos, religiosos y feligreses.
Vuelva a comprobar las ubicaciones y horarios de misa añadidos.
Desplácese hasta la parte inferior de la página para ver el Acto de Consagración Total a Jesús a través de María.
Act of Total Consecration of Oneself To Jesus Christ through Mary (according to St. Louis Marie Grignion de Montfort)
O Wisdom, eternal and incarnate! O most beloved and adorable Jesus, true God and true man, only Son of the eternal Father and of Mary ever virgin! I adore You profoundly in the bosom and splendors of Your Father during eternity and in the virginal womb of Mary, Your most worthy Mother, at the time of Your incarnation. I give You thanks that You have emptied Yourself in taking the form of a slave, in order to rescue me from the cruel slavery of the devil. I praise You and glorify You that You have been pleased to submit Yourself, in all things, to Mary, Your most holy Mother, in order to make me, through Her, Your faithful slave.
But alas! Ungrateful and faithless that I am, I have not kept the vows and the promises that I made so solemnly to You in my baptism. I have not fulfilled my obligations; I do not deserve to be called Your child or even Your slave; and, as there is nothing in me that does not merit Your rejection and Your anger, I no longer dare to approach Your holy and august Majesty by myself. This is why I have recourse to the intercession and mercy of Your most holy Mother, whom You have given to me as Mediatrix before You; and it is through Her that I hope to obtain from You contrition and the pardon of my sins, and the acquisition and preservation of wisdom.
I call to You, O Mary Immaculate, living tabernacle of the Divinity, where eternal Wisdom is hidden and wishes to be adored by angels and by men. I call to You, O Queen of heaven and earth, to whose rule everything is subject that is under God. I call to You, O sure Refuge of sinners, whose mercy fails no one; fulfill the desires that I have for divine Wisdom, and for that end, receive the vows and the offerings which my lowliness presents to You.
I (your name) _____________, unfaithful sinner, renew and ratify today, in Your hands, the vows of my baptism. I renounce forever Satan, his pomps and his works, and I give myself entirely to Jesus Christ, Incarnate Wisdom, to carry my cross after Him all the days of my life, and to be more faithful to Him than I have been until now. I choose You today, in the presence of the entire heavenly court, to be my Mother and my Mistress. I hand over to You and consecrate, as Your slave, my body and my soul, my goods, both interior and exterior, and even the value of my good actions, past, present and future, leaving to You an entire and full right to dispose of me and of everything that belongs to me, without exception, according to Your good pleasure, for the greater glory of God, in time and in eternity. Receive, O benign Virgin, this little offering of my slavery, in honor of, and in union with, the submission that eternal Wisdom deigned to have to Your maternity; in homage to the power that the two of You have over this little worm and wretched sinner, and in thanksgiving for the privileges which the Blessed Trinity has favored upon You. I declare that I wish henceforth, as Your true slave, to seek Your Honor and to obey You in all things.
O admirable Mother! Present me to Your dear Son, as His eternal slave, so that, having redeemed me through You, He may receive me through You. O Mother of mercy! Grant me the grace of obtaining the true wisdom of God and so include me in the number of those whom You love, whom You instruct, whom You lead, whom You nourish and protect as Your children and Your slaves. O Virgin most faithful! Make me in all things so perfect a disciple, imitator and slave of Incarnate Wisdom, Jesus Christ, Your Son, that I may come, through Your intercession and Your example, to the fullness of His age on earth and of His glory in heaven. AMEN.
Made this ___ day of _______, 20______ (day) (month) (year)
(Sign your name)
Qui potest capere capiat. He who is able to receive this, let him receive it (Mt 19,12).
Quis sapiens et intelliget haec? Who is wise that he shall understand these things? (Os 14,10)
Consagración de sí Mismo A Jesucristo, La Sabiduría Encarnada, Por Medio De María (según San Luis María de Montfort)
¡O Sabiduría eterna y encarnada! O amabilísimo y adorable Jesús, verdadero Dios y verdadero hombre, Hijo único del Padre eterno, y de María siempre virgen! Te adoro profundamente en el seno y esplendores del Padre, durante la eternidad, y en el seno virginal de María, tu dignísima Madre, en el tiempo de la Encarnación.
Te doy gracias por haberte anonadado, tomando forma de esclavo, para liberarme de la cruel esclavitud del demonio. Te alabo y glorifico por haberte sometido libremente y en todo a María, tu Madre santísima, para hacerme por Ella tu esclavo fiel. Mas, ¡ay!, ingrato e infiel como soy, no he cumplido contigo los votos y promesas que tan solemnemente te hice en el bautismo; no he cumplido mis obligaciones ni merezco llamarme hijo ni esclavo tuyo. Y no habiendo en mí nada que no merezca tu cólera y rechazo, no me atrevo a acercarme por mí mismo a tu santísima y augusta Majestad.
Por ello, acudo a la intercesión y misericordia de tu santísima Madre. Tú me la has dado como Mediadora ante ti. Yo espero alcanzar de ti, por mediación suya, la contrición y el perdón de mis pecados y la adquisición y conservación de la Sabiduría.
Te saludo, pues, ¡oh María inmaculada!, tabernáculo viviente de la divinidad, en donde la Sabiduría eterna, escondida, quiere ser adorada por ángeles y hombres. Te saludo, ¡oh Reina del cielo y de la tierra! A tu imperio está sometido cuanto hay debajo de Dios. Te saludo, ¡oh Refugio seguro de los pecadores! todos experimentan tu gran misericordia. Atiende mis deseos de alcanzar la divina Sabiduría, y recibe para ello los votos y ofrendas que en mi bajeza te vengo a presentar.
Yo (su nombre) __________, pecador infiel, renuevo y ratifico hoy en tus manos los votos de mi bautismo; renuncio para siempre a Satanás, a sus pompas y a sus obras y me consagro totalmente a Jesucristo, la Sabiduría encarnada, para llevar mi cruz en su seguimiento todos los días de mi vida y a fin de serle más fiel de lo que he sido hasta ahora. Te escojo hoy, en presencia de toda la corte celestial por mi Madre y Señora. Te entrego y consagro, en calidad de esclavo, mi cuerpo y mi alma, mis bienes interiores y exteriores y hasta el valor de mis buenas acciones pasadas, presentes y futuras. Dispón de mí y de cuanto me pertenece, sin excepción, según tu voluntad, para mayor gloria de Dios en el tiempo y la eternidad.
Recibe, ¡oh Virgen benignísima!, esta humilde ofrenda de mi esclavitud, en honor y unión de la sumisión que la Sabiduría eterna ha querido tener para con tu maternidad; en honor del poder que ambos tenéis sobre este gusanillo y miserable pecador y en acción de gracias por los privilegios con los que la Santísima Trinidad ha querido favorecerte. Declaro que de hoy en adelante quiero, como verdadero esclavo tuyo, buscar tu gloria y obedecerte en todo.
¡Oh Madre admirable!, preséntame a tu querido Hijo, en calidad de eterno esclavo, a fin de que, habiéndome rescatado por tu mediación, me reciba ahora de tu mano. ¡Oh Madre de misericordia!, alcánzame la verdadera Sabiduría de Dios, colocándome para ello entre aquellos a quienes amas, enseñas, diriges, nutres y proteges como a tus verdaderos hijos y esclavos. ¡Oh Virgen fiel!, haz que yo sea en todo tan perfecto discípulo, imitador y esclavo de la Sabiduría encarnada, Jesucristo, tu Hijo, que logre llegar, por tu intercesión y a ejemplo tuyo, a la plenitud de su edad sobre la tierra y de su gloria en el cielo. AMÉN.
Realizar el ___ de ______ del 20__ (día) (mes) (año)
(Firmar su nombre)
Qui potest capere capiat. El que pueda entender esto, que lo entienda (Mt 19,12).
Quis sapiens et intelliget haec? Quién es sabio, y entenderá esto? (Os 14,10).